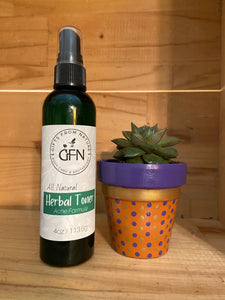 Toner: A substance that imparts tone (strengthens); Medicine to tone up the system, especially to increase the firmness, strength, or tautness of a part of the body.
Tighten pores, reduce infectious bacteria, stop bleeding and relieve the inflammation and soreness of acne prone skin with this soothing blend of all natural ingredients. 
Witch Hazel
Well known for its astringency action, it also boasts action as an antibacterial, antifungal, anti-inflammatory, antimicrobial, antioxidant and deodorant.
Yarrow
Destroys infective bacteria commonly associated with acne, and relieves pain of acne sores. 

Thyme
Strongly antibacterial, thyme keeps acne sores free of infectious bacteria as they heal.
Spray on your freshly cleaned face (or anywhere you have acne) and allow to air dry. Pair with our Carrot Soap to gently cleanse acne prone skin, calm inflammation and reduce the occurrence of breakouts.
4oz