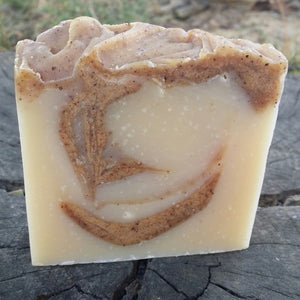 Almonds are rich in vitamins E, A and B, which are known to protect skin from sun damage and the signs of aging. The omega-6 and omega-3 fatty acids also found in almonds are used by the body to soothe and reduce the incidence of inflammatory skin conditions such as eczema.

The naturally occurring oil in almonds are high in oleic acid, which adds a wonderfully conditioning (the ability to retain moisture) property to this bar, resulting in improved elasticity and softness.

The creamy honey scent with hints of citrus and floral on a vanilla base rounds out the luxurious bathing experience you're guaranteed to have using this natural soap.
Made with: olive, coconut, palm and castor oils; handmade almond butter, water, sodium hydroxide, fragrance oil